From the Archives to the Air, Part 3
In this third installment of KGNU's From The Archives to The Air, we hear from three prominent figures in 20th Century Indigenous Peoples culture: singer-songwriter Buffy Sainte-Marie; author, poet, actor, musician, and political activist John Trudell; and American Indian Movement activist and political prisoner, Leonard Peltier.
First is an interview with Buffy Sainte-Marie, an Indigenous-Canadian activist and songwriter whose songs have been covered by such diverse artists as Celine Dion, Barbra Streisand, Elvis Presley, Janis Joplin, and Sweet Honey in the Rock. She spoke with KGNU's Theresa Halsey and Indian Voices in 2011.
After that is an interview with Native American author, poet, actor, musician, and political activist, John Trudell. During his life, Trudell participated in the occupation of Alcatraz Island by AIM and American Indians of All Tribes in 1969. By 1984 he was touring with the poetry and drum ensemble Tribal Voice. During a stop in Boulder, he sat down for a talk with KGNU's Theresa Halsey.
Finally, hear KGNU's Scott Schlegel's one-on-one conversation with Leonard Peltier, conducted at the U.S. Penitentiary in Leavenworth, Kansas in 1992. Peltier has spent most of his life in prison, after conviction for the 1975 murders of two FBI agents on the Pine Ridge reservation. Details of his controversial trial are disputed to this day. On February 6, 2023, Amnesty International declared a Global Day of Solidarity with Leonard Peltier and renewed its call for his clemency.
Listen: 
Produced By John Kelin and Alexis Kenyon From KGNU Archival Audio
Listen to a poem From John Trudell: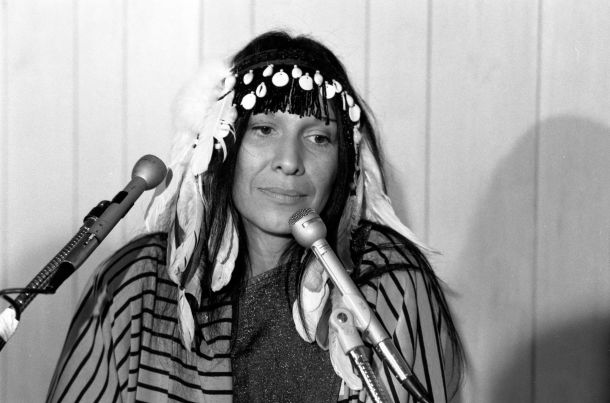 Buffy Sainte-Marie c. 1980's Credit: Ralph Dominguez/MediaPunch