The Boulder International Film Festival opens Thursday bringing dozens of curated films to venues across the cities of Boulder and Longmont.  The festival's co-founder and director Kathy Beeck joined KGNU's Shannon Young to talk about some highlights. 
Listen:
Interview Transcript: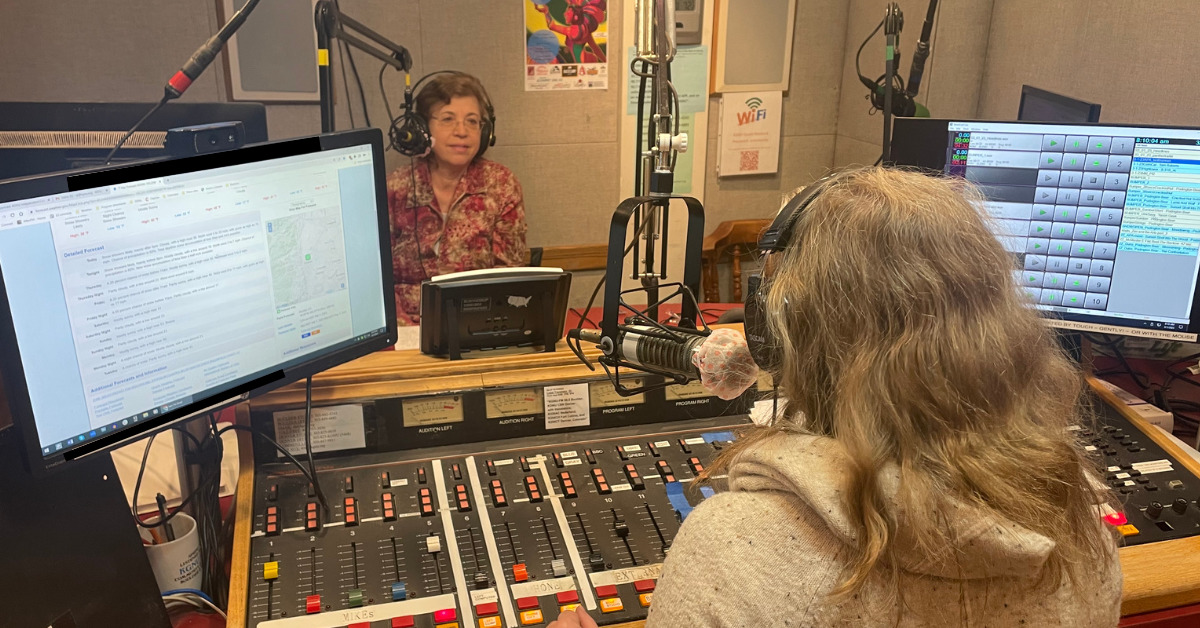 Shannon Young, KGNU: Well, so it actually finally feels like a post-pandemic film festival this year. Don't know if that's just my perception, but the program is very thick and it is packed with all kinds of events and, of course, film offerings. Give us a big-picture overview.
Kathy Beeck, Co-Founder BIFF: Sure. We have 66 films and they're either shorts or features or documentaries or animation. We have some youth films. We have something for everybody. I mean, there's such a variety this year. It is an excellent program. 
And, we do have this feeling coming back from the pandemic. It was a couple of years. We were lucky enough to have festivals in 2021 and then, even in 2020, we came in right under the wire. But this year feels like back to normal. We're really excited about it.
Shannon Young, KGNU: You know, just a side note–the 2021 Film Festival, The Sound of Soul that was the first gathering I went to after Covid started. So it was like, whoa, I'm actually at a thing with a packed auditorium, with others and I'm vaccinated. And it just felt good. So, that was my official kind of way of coming out of the worst, most serious part of the pandemic. 
Of course, this year you have pavilions, right? You mentioned your Youth Program and you also have an Adventure Pavilion. Tell folks what's in store in these sub-genres?
Kathy Beeck, Co-Founder BIFF: Good question. The Adventure Film Pavilion is something we started just a few short years ago. It's kind of my baby. I'm sort of an adventurer at heart. Not hardcore like a lot of people in Boulder are, but we started this because we wanted to showcase some of the best adventure films out there for this community. And it's kind of a festival within a festival. 
So we've got a whole slate of wonderful films that, the common denominator really is great storytelling. 
You don't have to be a real hardcore, adventurer but the stories in these films are phenomenal. Whether it's whitewater kayaking, rafting, animal conservation. We have some great films about that in the pavilion this year. We have shorts. We have features. 
We have a fantastic film about a couple of world champion BMX racers. I mean, who knew? I didn't know a thing about that. And yet, this is one of the most compelling stories that we have at the festival. The exciting thing is that those two world champion BMX racers, they're married. Sam and Alise Willoughby. They're going to be here at the festival. They're coming from San Diego. I'm so excited because the film is so fantastic. I feel like they're kind of rock stars. I can't wait to meet them almost above anybody.
Shannon Young, KGNU: Well, and another person who is coming to the festival is one of the main characters in a documentary film that's at the top my list,  Afghan Dreamers, Tell me about that movie. 
Kathy Beeck, Co-Founder BIFF: Well, that is a locally produced film by Brad Feld and that is about an Afghan girls robotics team. We have a lot of this kind of things over here, lots of robotics teams and lots of competitions for that but I didn't know that, there was this team from Afghanistan that traveled all over the world for these competitions. They were fantastic, but of course there was the strife going on at home and that really plays into the film. It is phenomenal and we're excited to show that as part of our youth program. 
So that means that it's gonna be free for students 21 and under. All you do is go to biff1.com/youth and get a ticket there for free.
Shannon Young, KGNU: Why have a whole set of films that are no cost to youth? 
Kathy Beeck, Co-Founder BIFF: Well, they're very hand selected, these films. We pick films that we think are gonna really make an impact on young people's lives. So we want to make them available. 
Another film in that program is called My Sister Liv. It's about a local family here. Some years back, the young woman, unfortunately, committed suicide. It was about her family and how they came to deal with it and how they transitioned through that. The film shows things you can do to help this real epidemic in our society. That's a locally produced film as well with Paula Dupre Pesmen, Olivia Ahmemann and Larissa Rhodes. It is fantastic and that's actually free for youth that are 25 and under. 
You can go to biff1.com /youth, again, for that one as well. 
And we have A Case For Kindness in that program-another locally produced film by Johnny Alamo. All, all these people that are directors and producers, they're all coming in for these films. Ride, the one about the BMX racers, that is also on the program and, of course, one of my favorite films this year. So all four of those films are available free for young people. 
And you have these films that are locally produced and then you have some very high dollar productions as well that require, you know, many years and specialized equipment.
So I wanna go to a clip of a trailer for a film that's in the Adventure Pavilion Path Of The Panther. Do you wanna set this up for us? 
Sure. Oh, this is fantastic. And it's about panthers in Florida. I did not know there were panthers in Florida. again, you know, film can be so educational, but it is about how they're trying to save the panther in Florida. There's been, of course, lots of development. Their habitat has been shrinking. But it's a great story because it, it shows how they are trying to pass legislation, for example, that could save their habitat. The thing I love about this film is they set up cameras, you know, to try to track the path of the panther and they capture so many other animals as well and it's just funny and wonderful and you see all these animals out there in the wild and it is a fantastic story. 
Shannon Young, KGNU: Again, that was a clip from Path of the Panther. It's a film that will be screening this weekend at the Boulder International Film Festival in its adventure pavilion. I'm here with Kathy Beek, the director and co-founder of the festival. As we were discussing before we opened up the mics, you were also saying there's a lot of great music programming, tell us about that. 
Kathy Beeck, Co-Founder BIFF: Absolutely. We love our music films at Biff, and we have some fantastic ones this year. We have one about Roberta Flack who turns out really fought for civil rights during her career. I didn't know that before the film. It's fantastic. There's almost nobody with a better voice than Roberta Flack. 
We have a film about Little Richard, which is fascinating because he was so cutting edge and ahead of his time in the day and what fantastic music he produced. We just love that film as well. Little Richard, I Am Everything.
We have a film about the Indigo Girls. Everybody loves the Indigo Girls. It's called Only Life After All. So that's one of my favorites this year.
And also there is a film about a group of guys in London back in the seventies who formed a company that did album covers for some of the biggest bands of the day including The Beatles, Led Zeppelin, Pink Floyd. And interestingly enough, today is the anniversary of Dark Side of the Moon. And this group did that album cover and it is so interesting because they didn't have Photoshop back then. So they had to go out and set up every picture they took. So it's a fabulous film.
It's at the Boulder Theater on Saturday night. It's called Squaring the Circle: The Story of Hipgnosis. So I really recommend that one. 
Shannon Young, KGNU: There is also the Little Richard one. It seems like it's so recent. I was looking online for a trailer for it and I couldn't find it. How fresh out of the oven are these movies?
Kathy Beeck, Co-Founder BIFF: You know, they're pretty fresh. You know, these are, we show films that aren't. In the theaters. So once in a while, there'll be one that might be online, but very rarely. So it could be that there isn't a trailer even available for that film right now. You know, we also have a fantastic opening night film called Immediate Family, and there are still some tickets available for opening night, but this is about a session band that started in the seventies and did the music for Carol King's Tapestry, Jackson Brown's Running On Empty, Sweet Baby James, by James Taylor, Linda Ronstadt, and, and they're still performing today. 
We have a couple of the guys from the band coming to the festival along with the director Denny Tedesco. So we're really excited about that. A couple of the other guys are on tour with Lyle Lovett and others. So, they're still out there cranking it and they are some of the best musicians in the world. So I'm really excited about Immediate Family for opening night. 
Shannon Young, KGNU: Then let's talk about closing night. You have Still Working Nine to Five? 

Kathy Beeck, Co-Founder BIFF: Yes! And this is one of the funnest films we have this year at the festival. This is a film about the making of nine to five. If we all go way back and remember that film from 1980, it was incredible. And it was very funny, but at the same time, it was really cutting edge in terms of women's rights and the statements it was making at the time. I didn't know that I was just fresh outta high school in 1980 and you know, I just didn't realize the impact that film had. So this is about the culture at the time, but it also has, of course, Lily Tomlin and Jane Fonda, and Dolly Parton. And they're all talking about the making of the film. It even has Dabney Coleman. It is fantastic. I can't recommend that enough. And we have the producer and director coming, Gary and Larry Lane. So we're excited about that. 
Shannon Young, KGNU: And finally, you something that BIFF started during the pandemic, I believe, was the online component, and that's continuing. 
Kathy Beeck, Co-Founder BIFF: Yes, it's our virtual cinema and it is continuing. We're starting it on March 6th, which is the day after the festival this year. It goes to March 19th. Not every single film at the festival is available online, but there is a great selection of virtual and you can go even right now and get tickets for that and watch it from the comfort of your home. So, we have so many wonderful films, really something for everybody. And we're really excited.