Craft coffee and artisan pies were top of mind (and taste buds) on today's Supersized Radio Nibbles as part of KGNU's Spring Membership Drive. John Lehndorff welcomed Rebekah Hoffman of Ozo CCopy to a new draft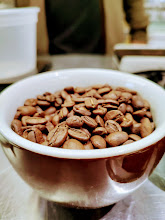 offee and John Hinman of Hinman Pie to talk about a cool tasting event exclusively for KGNU members on April 8 at Boulder's Ozo Coffee Roaster. Visit here to donate and get a seat.
The Ozo Coffee & Hinman Pie Pairing will offer a tasting of five coffees with five types of sweet and savory pie.
John was joined by author Denver Gil Asakawa who talked about his book "Tabemasho!" about Japanese American food including the dawn of sushi in Boulder. Three listeners grabbed signed copies as their thank you for supporting the station.
During the show John discussed his March 16 Nibbles column in the Boulder Weekly about how to brew good drip coffee.
Listen:
Two Sessions: 10:00am and 1:00pm. Reserve your seat today!
Pies will be paired with tastes of five craft coffees from Ozo Coffee. An Ozo Coffee expert will talk about how to taste coffee and tips for brewing better coffee at home.
Radio Nibbles host and former National Pie Championships head judge John Lehndorff will talk about how to judge and make pies and Boulder's pie history.
Limited seating, $75 for single tickets, $60 each for two or more purchased at the same time. Reserve your seat today!