Host Elise Matatall interviews Mimi Madrid (right) and Val Ponce Nájera (pictured above) from the intersectional and intergenerational organization Fortaleza Familiar.
Fortaleza Familiar is dedicated to the wellness of Indigenous Chicanx Latinx Lesbian Gay Bi Queer Trans Two-Spirit young people and their families in Colorado. Visit their website to learn at https://www.fortalezafamiliar.org/ and follow Fortaleza on Instagram to learn program updates: https://www.instagram.com/fortalezafamiliarco/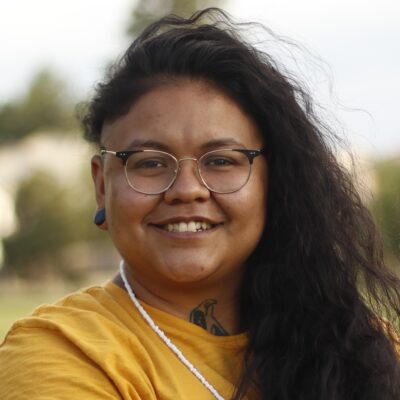 Mimi Madrid (he/they/she), Executive Director, Fortaleza Familiar – is a two-spirit queer facilitator and organizer in violence prevention in LGBTQ youth communities in Denver. They share extensive skills in youth program development and community organizing.
Val Ponce Nájera (they/them), Education and Training Coordinator, Fortaleza Familiar – is a Mexican non-binary queer educator with over six years of experience in DEI training and queer advocacy. They have facilitated workshops in places like the UNHCR in Mexico City and University of Colorado Denver. (In featured image above, portrait by local mexican artist Sammiotzi.)
Liberate Ourselves Program:
Fortlaze believes queer youth benefit by having intersectional spaces that uplift all parts of their identity. Especially through programs focused on cultural relevance, like our new program Liberate! This program aims to support youth ages 12+ who are interested in expanding their leadership skills with an interest in self-advocacy, training, and community building. To apply, visit their online application.
Music: "Tears at Bae" by Neoma, "¿Qué piensas hacer sin mi amor?" by Alex Anwandter