(Herb Carnegie Pictures and Biography Credit: Bernice Carnegie, www.bernicecarnegie.com)
On today's A Public Affair, host Tish Beauford shares an interview on the life and legacy of the late Canadian hockey legend Herb Carnegie, featuring interviews with his close relatives; the son, daughter, and grandson of the late Canadian hockey legend Herb Carnegie. Dale and Darren Carnegie joined Tish Beauford in studio and Bernice Carnegie participated by phone from Toronto, Canada celebrating their father and grandfather's historic induction, his legacy, and his extraordinary journey in becoming hockey's most important black hockey player and one the of the best hockey players in hockey history.
Listen:
The Colorado Avalanche won the State of Colorado its 3rd Stanley Cup on June 26th, 2022. We have continued to proudly celebrate one of the most historic runs in sports history, one that will not soon be forgotten. On June 28th, 2022, Colorado was making history again in the world of hockey. The Hall of Fame Class of 2022 was revealed and one of those inductees was the late great Dr. Herb Carnegie, CM, O. Not, OMC, who has direct family ties to Denver, Colorado.
Herb Carnegie will be inducted into the Hockey Hall of Fame Class of 2022 in the "Builder "category for his significant contributions to the sport of hockey both as a player and pioneering role model on and off the ice. Despite his career never reaching the NHL due to institutional racism, he revolutionized how hockey was played and who was able to play it.
He created groundbreaking pathways for diversity and inclusion for Black players and players of color who wanted the opportunity to play hockey which was a white and segregated sport. He was part of the Black Aces, professional hockey's first and only all-Black line that also featured his older brother, Ossie Carnegie and Manny McIntyre which helped elevate the visibility and acceptance of professional black hockey players.
His induction comes after 68 years after he retired playing his final game in 1954 with the Quebec Aces. As a left-handed center, his playing style was revolutionary and versatile. He has been revered in hockey and all over the world as the best black hockey player to never play in the NHL.
Herb Carnegie was born in Toronto, Canada on November 8th, 1919. He was the fifth of seven children of Jamaican immigrant parents, George and Adina Carnegie who immigrated to Canada in 1912. Both of his parents instilled in him the value of hard work, discipline and making the most of who he was and what he could be. His love for hockey began with him when he was eight years old which would culminate into an induction in the Hockey Hall of Fame.
His legendary hockey career began in 1938 with the Toronto Young Rangers and continued in the early 1950 with the Buffalo Ankerites, a team in a mines league that played in mining towns in northern Ontario and Quebec. From 1944-45 to 1947-48, he played for Shawinigan and Sherbrooke of the semi-professional Quebec Provincial League and was named most valuable player in three consecutive years; 1947, 1948 and 1949.
In 1948, Herb Carnegie was given a tryout with the New York Rangers and offered a contract worth $2,700 to play in the Rangers' minor league system. However, he was offered less money than he was earning in the Quebec league and turned down all three offers made by the Rangers organization during his tryout.
He returned to Canada to play in the Quebec Senior Hockey League, where he played for the Sherbrooke St. Francis and the Quebec Aces before moving to Ontario to play one season with the Owen Sound Mercuries of the Ontario Senior Hockey Association. During his years in the Quebec Senior League, Carnegie played with future Montreal Canadiens star Jean Beliveau and was coached by Punch Imlach.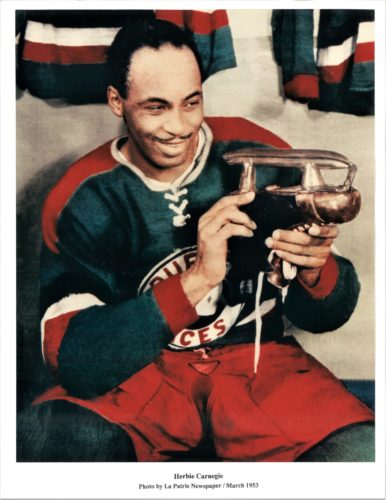 During his illustrious career, not only was he voted the "Most Valuable Player" for three consecutive years playing for Sherbrooke and Quebec in 1947, 1948 and 1949, he was also inducted into 13 Halls of Fame including his induction in 2001 into the Canadian Sports Hall of Fame and the Ontario Sports Hall of Fame in 2014.
Herb Carnegie's legacy also extended beyond the ice. After he retired as a player in 1954, he became a successful businessman in the investment industry as well a dedicated philanthropist. He founded the Future Aces Hockey School one of Canada's first youth hockey schools. He was a mentor and trainer guiding young hockey players on how to excel on the ice and in life. He also authored the Character Creed Initiative for Future Aces Youth Hockey which was adapted into all of the schools in Ontario Canada and has also been translated into nineteen different languages across the world. Some teachers brought it to other countries during placements, but it was more of a character initiative throughout the Province of Ontario.
Through his tireless work in training youth hockey players and community service in Canada, he became a member of both the Order of Ontario and the country's highest civilian award, the Order of Canada. He was also awarded the Queens Silver Jubilee Medal recognizing his significant contributions to the Canadian community.
In continuing his legacy, the Herb H. Carnegie Future Aces Foundation founded in December 1987 by his late wife Audrey Carnegie and his daughter, Bernice Carnegie has supported students and future leaders across Canada for over 35 years donating nearly $1 million in scholarships and awarding outstanding citizenship recognition.
In addition to being a Canadian icon, Dr. Herb Carnegie was a devoted and loving husband, father, grandfather, and great-grandfather. He was married to his beautiful wife, Audrey for 63 years until she passed away in 2003. He would pass away nine years later on March 9th, 2012, in Toronto, Canada at the age of 92. Together they shared four children, nine grandchildren and eight great-grandchildren.
Dr. Herb Carnegie and the Carnegie Family can now proudly and rightfully add one more and by far the most important and career defining Hall of Fame credential to his historic and iconic sports legend. His long overdue recognition of reaching the ultimate pinnacle of becoming a Hockey Hall of Fame Class of 2022 Inductee along with new fellow HHOF 2022 members: goaltender Roberto Luongo, forwards Daniel and Henrik Sedin, and Daniel Alfredsson and women's star Riika Salinen.
Carnegie will join past Hockey Hall of Fame Inductees as the fifth Black member to be enshrined with Grant Fuhr, Angela James, Willie O'Ree and Jarome Iginla as the Hockey Hall of Fame's only Black members.
To learn more about Dr. Herb Carnegie's legendary career and contributions to hockey. Please check out the video and links below:
Video Credit: Future Aces
(Citations)
William Douglas @WDouglasNHL / NHL.com Staff Writer, June 28, 2022.
Herb Carnegie Pictures and Biography Credit: Bernice Carnegie, www.bernicecarnegie.com
African American Registry, Herb Carnegie, Ice Hockey Player Born